Martina Piedrahita: Waterskiing Over the Clouds
She took march-like steps behind the Colombian flag bearer, approached the podium, and took a deep breath. She clapped as the other athletes were awarded, her heart beating in eagerness. The presenter called her name, nodded toward her, and placed the silver medal on her neck as she lowered her head and fixed her hair. "I made it," she said to herself, smiling brightly with tears rolling down her eyes as her mom proudly took her picture. 
After only 5 years of skiing, 16-year-old student Martina Piedrahita, Grade 11, never expected to be competing against 30-year-old world champions much less standing by their side on the podium. On October 9, 2022, Martina Piedrahita won second place in the South American Games. To reach this level, Martina has made innumerable sacrifices and had key supporters in her life. 
"Martina always had a gift for waterskiing, I have no doubt that from the beginning she would accomplish great things," Waterskiing Trainer Freddy Tobón said. 
Waterskiing requires years of practice in order to reach a competitive category, with professionals typically starting training at the early age of five. However, Martina made it in 4 months. 
"Martina's ski career has been extremely successful, considering how she did not start skiing at an early age as most of the other skiers do," Sebastian Tizza, Piedrahita's boyfriend and gold-medalist skier, said. 
Martina began skiing at 12 when her mom motivated her and her older brother to test the waters at the local country club. After two months of consistent practice, the trainer invited her to participate in a competition, in which she won second place. 
"Reaching the podium in her first competition is what motivated her to continue pursuing the sport," Maria Clara Lalinde, Martina's mom, said.
Martina started with basic water skiing but later moved on to do three modalities in competition: tricks, slalom, and jump. 
"I love all three modalities the same, but I tend to do better in the jump," Martina said. 
"One of Martina's biggest accomplishments is not only being selected to participate alongside some of the best South American water skiers but also winning second place," Lalinde said. 
The multisport XII South American Games took place in Asunción, Paraguay, from October 1–15, 2022. The South American Sports Organization, the Paraguayan Olympic Committee, the Republic of Paraguay's government, and the area's National Secretary of Sports jointly organized the games. 
"Instead of only competing against people my age as I usually do, this was an adult tournament with no categories, making it a huge accomplishment for me given my age," Piedrahita said. 
Not only was Piedrahita placed against some incredibly talented skiers, but she was also entirely sponsored by the Colombian Ministry of Sports for being in an Olympic Cycle competition. She was gifted with housing, uniforms, and travel fees as she is a great asset when it comes to representing Colombia in waterskiing.
Competitive skiing implies making many sacrifices, like missing lots of school, not attending most social activities, and dedicating most of her free time to practice. Piedrahita does not have the life of a normal teenager – instead, she leads the double life of a student and professional athlete. This amount of hard work and responsibility means she can not prioritize other aspects of her life. This primarily affects her social life and academic workload. 
"Her achievements do not come on their own. She has had to sacrifice all of her weekends and I rarely see her at parties," Ana Sofia Correa, Grade 11, said. 
As of this year, Piedrahita has had 50 absences, and she reached upwards of 200 in 10th grade. 
"I was never bothered with Martina's academic development. Before she went to her competitions she always stayed on top of her responsibilities, and even excelled above peers who never missed a day of class," Norberto Villa, HS Spanish teacher said.
Being a high-performance athlete also has a noticeable impact on Piedrahita's family. Not only economically, but also in their family dynamic; changes in schedules and plans according to her competition dates, and economic adjustments to keep up with the costs of her sport.
"Her competitions require lots of travel time, which her father and brother sometimes do not have time for. So our family is constantly split, as I travel with her and her dad and brother stay home," Lalinde said.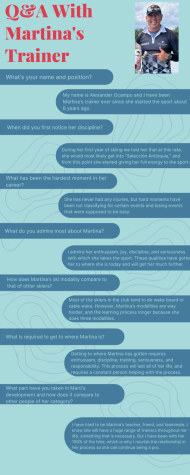 "For Marti, reaching this level has required a focused mentality, consistency in training, and unconditional support from her parents, coaches, and others who are always looking out for her," Fredy Tobon, Martina's trainer, said.
According to her trainer, Martina would not be where she is today without the supporters she has by her side; her mom, boyfriend, friends, trainers, and TCS staff who help her navigate the ups and downs of professional water skiing. 
"I work especially hard to do my best job with Marti because at the club we are proud of the achievements that she has obtained," Alexander Ocampo, her second trainer, said. 
Being a teenager and professional water skier is not always easy and comes with strings attached.
For Piedrahita, the burden of being an athlete is overcome, and her achievements and happiness make it worth it.
"She truly enjoys her sport, so she has accepted and is happy with making sacrifices in order to continue pursuing her passion," Lalinde said.