Thanksgiving Assembly Rescheduled Because of Nationwide Protests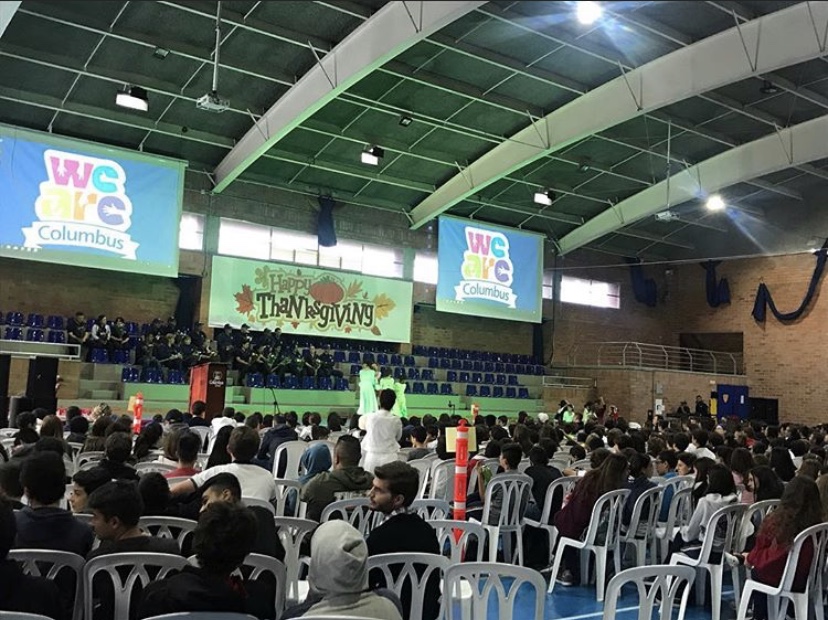 The annual Thanksgiving assembly on November 27th was postponed due to the paro nacional and has been rescheduled for December 12th in the upper elementary coliseum.
TCS administrators had a difficult time deciding whether to cancel school or not, but eventually, due to how protesters were reacting in other parts of the country, they decided to do so. The protests had already been violent on November 21st all around Colombia and the school did not want to take any risks with their staff and students.
"We talked with people in communication with the city and city organizers so they could give us advice on whether we could go to school or not. We decided to cancel school last minute because of some of the arises that were happening in Cartagena and Cali." Darian George, High School Vice Principal, said.
The protests are not only affecting Medellin but many other cities around the country in which schools and universities have been suspended. Violent protestors were disturbing the streets which could threaten many of the staff and students on their way to school. 
"The Paro is negatively affecting schools and universities from all around the country. It is making that kids lose school and students from universities not have classes. It could probably get the semester canceled in many universities." Santiago Restrepo, 10th Grade STUCO, said.
Students in TCS may be affected by the paro nacional because if school keeps getting canceled, they could end up staying a couple of days after vacation to meet the minimum requirement of school days. Administrators at the school hope to not have to cancel school again.
"According to the ministry of education, we are required to do 180 days of class. We actually scheduled 183 for stuff like last year when we had problems with the environment. On November 21st, we did a virtual day so that day still counts for the 180 days." George said.
This is the first time in more than 10 years that the assembly did not occur on Thanksgiving, but the school refused to cancel it. Students are looking forward to the assembly because it is the time of the year when they can be thankful to everyone especially the staff. The National Honor Society prepared a video and the entire school worked together to gather money as a gift to the maintenance staff.
"I am really looking up to the assembly. I think it's a very special occasion in our school because it's when we get to thank everyone, especially the staff for their hard work. They are probably looking up to the assembly as well." Restrepo said.
About the Writer
Miguel Restrepo, Chief Copy Editor
Miguel Restrepo is a member of the class of 2022. This is his second year in Journalism and is a Chief Copy Editor. His first published article was "...