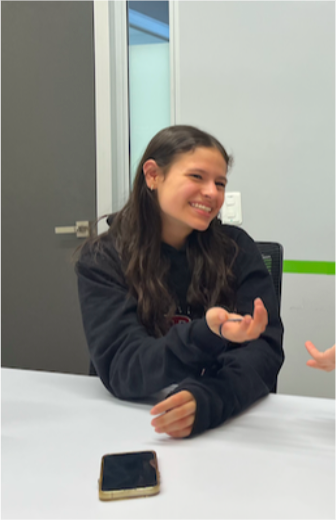 Camila Gutierrez, preferably called Cami, Grade 11 student, recently relocated from Panamá due to her father's job transfer. 
We sat down with Camila to gain insight into her school experience, life before Colombia, and what she missed most about Panamá. Like most new students, she initially felt anxious and overwhelmed entering this new phase of her life within an unfamiliar culture and a large community. "At first, it was very hard because, like I said, it's very big, so it's overwhelming to see so many people and to be new among them," Gutierrez said.
Camila was apprehensive about starting in such a large school where she didn't know anyone. However, she soon found comfort in the TCS community. 
"The community has been very welcoming to me. Everyone has been very nice, and I feel like I have adapted," Gutierrez said. 
She claims that leaving her friends behind was indeed a challenge, but she found solace in making new connections.
 "Yes, it was very hard for me, but now I feel like making new friends has helped me a lot to deal with that," Gutierrez said.
While she has begun to acclimate to the school, we inquired about what she misses most about Panamá. She emphasized her longing for her friends and the connections she had at her previous school. 
"Definitely my friends and the school. While I have grown to like this new school a lot, I miss knowing everyone and having my relationships with everyone in Panamá," Gutierrez said.
Nonetheless, she believes that The Columbus School curriculum aligns well with her personal and professional aspirations, and she anticipates it will open up numerous opportunities for her future. 
"I really like entrepreneurship. I feel like I'm in some interesting classes where I can learn things that I actually find applicable to my life," Gutierrez said.
Camila also shared her post-graduation plans to us, where she claims that she wants to study abroad, preferably in the United States or Europe. 
 "So I am definitely going to stay for the next two years, and I will graduate from this school. But I am not sure yet where I want to go, probably somewhere in Europe or the United States," Gutierrez said.
Despite her relative unfamiliarity with Colombian culture, she has always been surrounded by it, given her father's origins in Bogotá and her mother's roots in Cartagena. Camila disclosed her previous residence and educational background before joining The Columbus School. 
"I am originally from Bogotá, where I lived for six years. I attended Gimnasio Femenino in Bogotá. Then, I moved to Panama when I was six years old, and that's where I've been for the past ten years at the Metropolitan School of Panama," Gutierrez said.
To conclude, we asked Camila about her impressions of Medellín so far where she claims that she has felt comfortable in the areas she has visited thus far, regardless of lacking still a few places to visit. 
 "I think I still need to get to know the city a lot more, but from what I have seen, the few places I've visited, like Comuna 13, have been very enjoyable. I really like Medellín so far," Gutierrez said.