Excitement Builds Up for La Guajira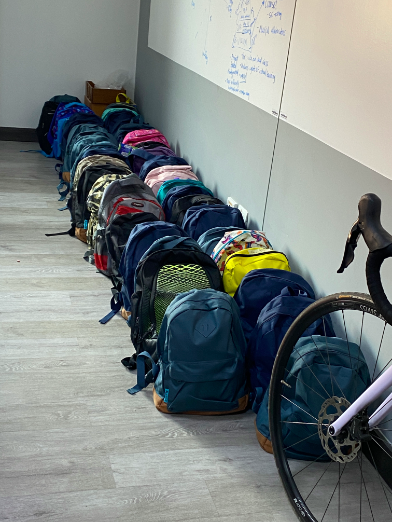 For the first time in three years, 101 Grade 8 students and teachers will travel to La Guajira February 26 – March 5 to support indigenous communities.
For the past four months, TCS MS team has been gathering backpacks, clothing, and toiletries, to donate to schools in La Guajira. There are two groups of 45 students traveling, one departing on February 26 and the other departing on February 28. Along with four teacher chaparones in each group, Vice Principal James Bandura and Principal William Pulgarin will supervise the trip.
"Guajira is a MS tradition. It's a very big motivation for Grade 8 students to have a fun trip, but at the same time be able to make a social impact in the community," Luz Myriam Arango, Social Studies teacher, said.
There have been signs of excitement for MS teachers who have been called to go to the re-organization of the trip. 
"The children's learning is going to be influenced by what they are going to find and how they contrast this with their daily lives back at home. I think it is very good for the students to become more connected with their country, and discover places that are yet unknown to them," Manuela Castaño, Grade 8 Spanish Teacher, said.
Traveling to La Guajira is going to be a new experience for many students. This trip will include many entertaining activities, but also challenging ones, such as many long hikes, sleeping in tents, and learning how the tribe's work is done. 
"Well, I am super excited because it is a new place to discover. We are going to have a great time because it's an opportunity to meet new people and get to understand different cultures and traditions, " Miguel Arango, Grade 8 student, said. 
Due to the pandemic, the annual trip to La Guajira was postponed. After three years, the school decided to rearrange the trip. Grade 8 students expressed a very positive and favorable reaction to the reorganization. The class of 2027 is going to be able to live the experience previous years could not.
"I am very excited because I know that it is going to be a very cool trip, and we are going to get to do many new things," Gabriel Jaramillo, Grade 8, said
To plan the trip, teachers, and school staff began a new social project: collecting material donations for the Wayuu instead of monetary support. Clothes, personal hygiene kits, backpacks, and other necessities have been donated to each of the Wayuu students, with no need to do fundraisers as they did for past trips. 
"We are very happy to have achieved the goal of 101 backpacks and complete kits. Nevertheless, it makes us very sad not to be able to reach the high economic goals we had in past years because we could invest that money in something that guaranteed the schooling of more than 800 indigenous people."  Arango said.    
Students remarked that this event would forever change who they were as people when they leave school. The participants believe they will leave behind a powerful impact on the Wayuu community. The school wants Grade 8 to have the time of their lives, but also return home with a big smile of satisfaction for making social improvement happen. 
 "This is going to be a trip that we will remember forever. It's a time for our grade to connect and meet new friends and places," Mariana Duque, Grade 8, said.