An unforgettable journey of memories and lessons
Despite being the largest indigenous community in Colombia, the Wayuu people suffer from extreme poverty, malnutrition, and lack of access to clean water. 40% of Wayuu children under the age of five suffer from chronic malnutrition.
TCS middle school students and faculty gathered 101 backpacks with clothes, hygiene products and school supplies which they delivered to Wayuu children on their trip to La Guajira from February 26-March 5.
After 3 years, Grade 8 students and teachers traveled to La Guajira to support and connect with Wayuu indigenous communities. This trip was not only to provide students with a fun experience but also to make a social impact on the community.
"It's truly heartwarming to see how families and students came together this year and had empathy and passion to support this social project. I could see a sense of solidarity and desire to help and support Wayuu indigenous community," Luz Miriam Arango, Social Studies teacher, said.
Visiting tourism sites
Students traveled to Cerro Pilon de Azúcar, a small mountain where the tourists can appreciate a 180º view of the Caribbean Sea. Also, they went to Cabo de La Vela, a remote desert village on Colombia's northern tip. Here, they were able to enjoy the beautiful beach. 
"I really liked this trip! It was such a memorable experience for me, and I think that visiting Cerro Pilón de Azúcar and the ocean in Cabo de la Vela were definitely the highlights. Being with my friends in these beautiful places was really fun," Matias Gomez, Grade 8, said. 
"One of the best things about the trip was discovering new places in Colombia that I'd never seen before. Exploring La Guajira and experiencing all its beauty was something I'll never forget, especially the Pilon de Azucar. The landscapes were beautiful," Sofia Gomez, Grade 8, said.
Serving the Community
Apart from the views, students also had the chance of giving back to the community by visiting a school in a Wayuu community near Cabo. Here, they interacted with young kids, learned about their culture, language, and traditions, and most importantly, gave them all the donations they have been collecting for the past months.
"What I liked the most about the trip was spending time with the Wayuu community, learning their traditions, culture, and way of life. One moment that stood out for me throughout the trip was an activity we did with the children in the school. We played with the kids, and seeing their faces full of excitement was really fun," Amalia Gutierrez, Grade 8, said.
"Something I really liked was interacting with people I had never known before and learning their culture, which was very interesting. Additionally, I really enjoyed when we went to the school and handed out all the backpacks we collected. It was very emotional and exciting," Arianna Niehaus, Grade 8, said.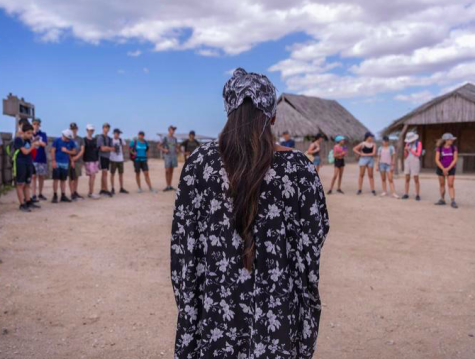 A Learning Experience
The purpose of this trip was not only for the students to enjoy quality time with each other, but also learn and become more conscious about the opportunities and privileges in their daily lives. Guajira is the most arid part of Colombia and from this experience students became more aware of their own water usage and carbon footprint. Additionally, it encouraged them to step out of their comfort zone and meet new people from different cultures.
"The biggest lesson I took away from this trip is to always be grateful for what I have. Also, this trip taught me the importance of opening my mind to new experiences and different realities we are unaware of. We should enjoy and learn from every moment in our lives," Gutierrez said.
"On this trip I learned a lot of things, especially to be grateful for our opportunities. Also, I learned the importance of being conscious of environmental care and how indigenous communities value it. I think Wayoo's culture is really interesting. I really enjoyed it when they taught us their language, which is completely different from ours," Emilio Mantilla, Grade 8, said.
"I was able to learn the depth of their culture and the unique way they lived their lives. But what truly impacted me was how people live off their local resources even though they don't have much. From this experience I started to be more conscious of my water usage," Claire Brimley, Grade 8, said.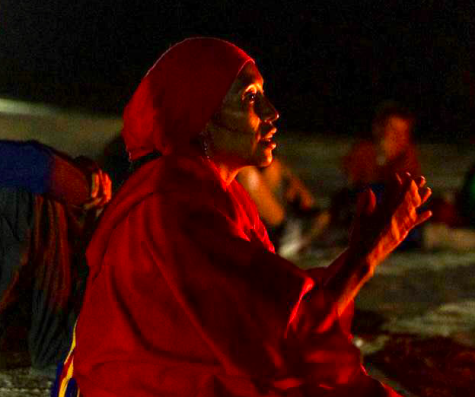 A Challenge
Although the experience was filled with fond memories, it proved to be challenging for certain students. This trip compelled most of them to step out of their comfort zone. Sleeping in hammocks rather than beds, water-usage limitations, long walks, and consuming unfamiliar food, are not part of a typical TCS student's routine.
"The hardest part was seeing the dark side of the country. We perceived the difficult realities in our country and how people need to fight so hard for things that we think are very simple. This impacted us and made us reflect on things we didn't even notice before," Gutierrez said.
"The most challenging thing was observing the living conditions of many people in Colombia, with poverty and garbage present everywhere. Additionally, it was a struggle to adapt to a different way of doing the simplest tasks. It was really hard for me to sleep in hammocks instead of beds," S. Gomez said.
"Although there were many challenges that required me to leave my comfort zone, the most difficult one was hiking for hours in the sun. The sun was intense, and it was not only physically exhausting but also mentally since I didn't know when it was over," Brimley said.
In the end…
The purpose of the trip was to support and connect with the Wayuu indigenous communities in La Guajira by delivering special donations. Also, the trip was an opportunity for the students to learn and become more conscious about their own privileges and opportunities while stepping out of their comfort zone.
"During the trip, the students were very happy and motivated by this beautiful cause. Additionally, the indigenous people were cheerful and grateful for our support. Hopefully, this gives us the impulse to start our project for next year," Arango said.