TCS Hosts Conference of International Educators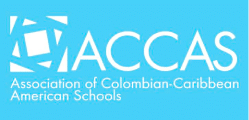 The Columbus School volunteered to host an Association of Colombian – Caribbean American Schools (ACCAS) conference involving 11 schools between September 22 and September 23.
According to Dr. Ruth Allen, TCS director, the conference was hosted due to "changes in business managers and heads of school" and because "we have had a stable leadership team and we have lots of space." Most schools sent their business managers and directors to attend the conference.
"you can come away from these meetings with solutions to challenges and or ways of dealing with challenges that are very, very positive," Allen said.
The conference in the library focused on cybersecurity and technology, and the conference in the band room focused on tool utilization and business management.
"Well, the invitation arrived through the business manager. And well, I found the topics to be super interesting for my area, so that is why I came to this conference." Patricia Jaramillo, Technological Director at the Colegio Granadillo, said.
Invitations were sent out by email to the business manager of each school. Then the school would be free to decide who would attend.
"Every year you look at your calendar, and you say, I just don't have that time. There's so many things happening. And then you say no, but I have to go and see those people," Laura Horbal, Director of La Sierra International School, said.
The attendants of the conference came from Cali, Caldas, Barranquilla, Bogota, Santander, Risaralda, Armenia, Valledupar, and Medellin.
"To me, it has been really interesting, it is my first time coming to an ACCAS conference, and I would like to go to other places," Jaramillo said.
ACCAS is an organization that was founded by the United States Education Division to support international schools. Its Vice-president, Andrew Roberts, attended the conference.
"Where do you find guidance? Who else has similar or shared experiences? Who else can you discuss the issues of being a school director with? Well, the answer is logically other school directors," Roberts said.
A member of the Fortinet cybersecurity company gave the cybersecurity conference at the library. The talk was about the prevention of attacks and the importance of cybersecurity.
"We share information among other school directors of the ACCAS group, and there are a lot of things that we can't really share with other people. Concerns, problems, issues that we have that you might not be able to tell everyone because of confidentiality and all," Horbal said.