Lebron James, the Undisputed G.O.A.T of Basketball
"LeBron James has 22 total playoff games with at least 35 points, eight rebounds, and eight assists. That's more games with those numbers in the postseason than Michael Jordan, Larry Bird, Kobe Bryant, Kareem Abdul-Jabbar, Magic Johnson, and Wilt Chamberlain COMBINED." Ever since the NBA (National Basketball Association) creation in 1946, stars have taken center stage within the court to prove why they're the best. Every once in a while, a superstar rises above all else. LeBron James isn't just some generational talent. He is the best player to ever partake in the game of basketball. King James has proven his dominance over the years in his statistics, along with his achievements on and off the court, both as a player and as a leader.
Throughout the NBA's history, there have been 4,059 players who have stepped on the court, yet none have had the individual success that LeBron has managed to achieve. James has been a four-time regular Season MVP(Most Valuable Player), a four-time champion with three different teams, four-time Finals MVP, and 16-time All-Star. Additionally, he ranks 3rd on the All-Time Scoring List, 8th on the All-Time Assist List, and 13th on the All-Time Steals List. He is perhaps the most decorated individual player profile in NBA history to those who don't know basketball. His career would've been impressive for a retired athlete, as the average NBA age span is about 19-33. However, James keeps climbing up ladders and further cementing his legacy at 36 years old. Yet, some believe that factors such as championships or MVPs are the key elements that define greatness. In that case, Michael Jordan is James' top rival since he has won a total of six championships, five league MVPs, and six finals MVPs. This draws a parallel to James 6 finals losses. Just as David Lopez, TCS high school female basketball coach, believes, "He (Jordan) has a legacy of championships and most individual awards, of matches that no one would ever believe he would win. Of course, we have to acknowledge that it was a team effort, but MJ was the leader." Leaderboards are full of LeBron's name, but he hasn't conquered any single category to this day. Getting to the top of the charts isn't a one-man show, and frankly, nothing can be done without great teammates to surround your superstar athlete with. James' experiences in teams with All-Star caliber players have shaped the ability to strive for excellence.
Like Micheal Jordan, Kobe Bryant, and Larry Bird, every great player has had star teammates by their side that helped them achieve glory. LeBron has managed to succeed with and without a sidekick, something that's been both an advantage and, at times, a weight on his professional career. 2018 Cavs head coach, Tyronn Lue, addressed the media after a game seven playoff win against the Indiana Pacers and stated that James "put us on his back scoring the basketball, facilitating, being aggressive. He played 43 minutes, kept off the floor momentarily due to leg cramps, and carried into the game's final period to seal the win." These types of performances showcase how much he has had to sacrifice to win. James truly demonstrates that he can get to the championship independently, but when he has had at least another all-star on the roster, James has managed to win it all with ease. This case can be seen in his championships in 2012 and 2013 with Dwanye Wade, 2016 with Kyrie Irving, and 2020 with Anthony Davis. Some might argue that LeBron manipulates the market and free agency to suit the best scenario for him to win more championship rings. One-team wonders like Dirk Nowitzki, Kobe Bryant, and Magic Johnson didn't control the market to their advantage, unlike LeBron. Yet, it's a pretty compelling case that the one deemed the "Chosen One" coming out of High School got tired of failing and decided to find the sidekicks he deserved. It's easy for loyal basketball fans to recognize greatness in a player on the court, but as individuals, it's hard to acknowledge positive leaders in our society. No other athlete has managed to leave their mark outside the hardwood floor as James has.
Most athletes have focused on leaving an impact on the court as their only legacy, while LeBron places as much importance on helping his community and the people around him. James' charity, The LeBron James Family Foundation, is continuously involved in aiding people and families in need. He commits a certain amount of his money to ensure that the community's kids get programs and initiatives to help them grow up in a kinder environment. The biggest project of his foundation yet is the "I PROMISE Institute," a school for out-reach, lower-income children in the outskirts of Cleveland that aims to show them a better life and education, one that James´ younger self would have liked to have. Aside from aid towards low-income families and children, James continually raises awareness for the BLM (Black Lives Matter) movement and encourages others with platforms to step up. James' "More than an Athlete" campaign rallied artists, athletes, and influencers to talk about issues that they are not comfortable with. This created a ripple effect seen in the case of fellow NBA stars, Kevin Love and Demar DeRozan, who both stepped out of their comfort zone and opened up about their mental health issues. Some believe that James should play basketball and do nothing more. This was most notable in the case of Fox News reporter Laura Ingrahm, who in 2018 told James to "shut up and dribble." Later on, this comment was deemed racist and unapologetic, given the fact that, when LeBron responded by stating that he would use his voice and platform for the good of people of color no matter the outcome, the whole sports world backed him up. This incident provided an even greater sense of motivation for those athletes of color who are considered as "entertainment" to speak up for what they believe in. Those young minds who are the victims of abuse, social injustice, and lack of opportunity can look up to LeBron as a role model, both for basketball and life. 
Often, LeBron James has been undervalued, misinterpreted, and even hated. Yet, this has not brought LeBron down. Instead, it's lifted him to achieve parallels that almost no player has managed to overcome and become the leader most hope to be.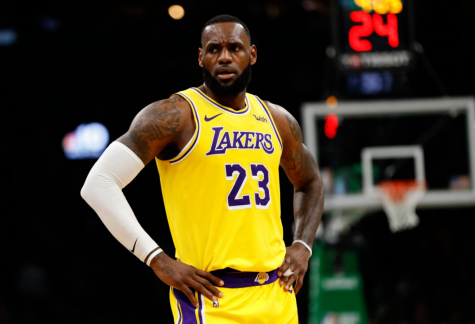 About the Contributor
Nicolas Creus, Sports Editor
Nicolas Creus is a 2021 class graduate from the Columbus School. This is his first year as a journalism student and he currently holds the position of...