Swinging to the Biggest Movie of 2021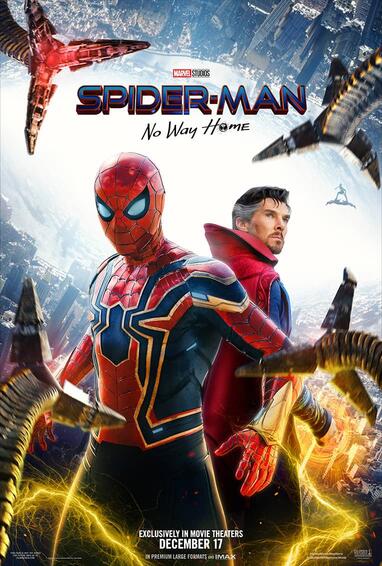 Ever since its announcement at the end of February 2021, the breathtaking teaser trailer on August 23rd and the official trailer on November 16, Spider-Man No Way Home, releasing December 17, has been the most hyped and awaited movie of this year. 
Within minutes of the pre-order tickets going on sale on November 29, ticket sites collapsed as fans rushed to secure seats for one of the most anticipated films of the year. The box office has not experienced this many sales since the beginning of the global pandemic, which shows that the movie industry has a bright future ahead of them. 
"There are different tiers of intense fan demand when it comes to Box Office pre-sales, and this film is clearly showing it belongs near the top with a select few others," Shawn Robbins, chief analyst at BoxOffice.com, said.
Breaking Box Office Sales
Spider-Man No Way Home experienced a surge of demand for tickets, leading to many websites crashing or placing fans in hour-long online queues just to secure tickets. This hadn't been seen at the box office ever since the release of titles like "Avengers: Endgame" and "Star Wars: The Rise of Skywalker" back in 2019. 
"I have not seen anything like this since Star Wars: The Force Awakens. Once the tickets went on sale, they went through the roof.  I added more screens.  Thank you Sony," Rick Roman said at the Kentucky exhibitor.
Box office analysts already speculated that Spider-Man No Way Home could top $100 million during its December debut, and after the crash and its high demand for tickets, it has become even more likely to do so.
"It would be entirely fitting that a Spider-Man movie could potentially be the first pandemic-era release to break the $100 million opening weekend mark," Paul Dergarabedian, senior media analyst at Comscore, said.
The Hype
Spider-Man No Way Home, featuring Tom Holland as Spiderman and Benedict Cumberbatch as Doctor Strange, has made fans desperate for the movie to come out. With returning actors such as J.K. Simmons (J. Jonah Jameson), Alfred Molina (Doctor Otto Octavius), Willem Dafoe (Green Goblin), Tomas Haden Church (Sandman) from the Sam Raimi Spiderman universe, Jamie Foxx (Electro), Rhys Ifans (Lizard) from Marc Webb's Spiderverse and also Tom Hardy (Eddie Brock/Venom) from the Venom verse, the hype for the multiverse in the Spiderman movie is second to none. 
"When I was first pitched the idea, I was like, 'Wow, that would be awesome if we could pull it off," Tom Holland told Empire Magazine. "'But there's just no way it's going to work. You're just not going to be able to get everyone to do what they need to do. It's just not going to happen.' But it did happen. And it's crazy."
After the confirmation of the multiverse, fans have been speculating about Tobey Maguire and Andrew Garfield's Spiderman returning to the big screen. The speculation increased after Alfred Molina's line when fighting Tom Holland's Spiderman in the official trailer saying 'You're not Peter Parker'. Multiple cast members and even Andrew Garfield have denied the appearance of another Spiderman in this film with Tom Holland repeatedly stating 'Most anticipated Stand-Alone superhero movie', however fans are not taking it at all.
"You guys are really good at your jobs, but I'm better at mine! Listen, I'm not in the film. I love Spider-Man, I always have, and I'm so happy to have played the part… I love Tom Holland, I love [director] Jon Watts, I love [producers] Amy Pascal and Kevin Feige, and what they've done with those movies and that character … It's an important character to me, so I'm just really excited to see what happens in the third one, as you guys are." Andrew Garfield told The Today Show.
Spiderman No Way home releases December 17, 2021, and will have an estimated runtime of 2 hours and 28 min making it the MCU's(Marvel Cinematic Universe) 3rd longest film after Endgame and Eternals. The movie will be taking a completely different approach to what we expect from marvel movies as it will be more dark and emotional, as stated by Tom Holland.
"What people will be really surprised about is that it's not fun, this film," reveals Holland. "It's dark and it's sad, and it's going to be really affecting. You're going to see characters that you love go through things that you would never wish for them to go through. And I was just really excited to kind of lean into that side of Peter Parker."
Bibliography:
https://www.cnbc.com/2021/11/29/spider-man-no-way-home-ticket-demand-crashed-box-office-sites.html
'Spider-Man: No Way Home' Seeing Biggest Fandango Presales Since 'Avengers: Endgame'
'It's not fun, this film': Why Tom Holland believes Spider-Man: No Way Home will be brutal for fans