Summer Pre-College Programs Challenge Students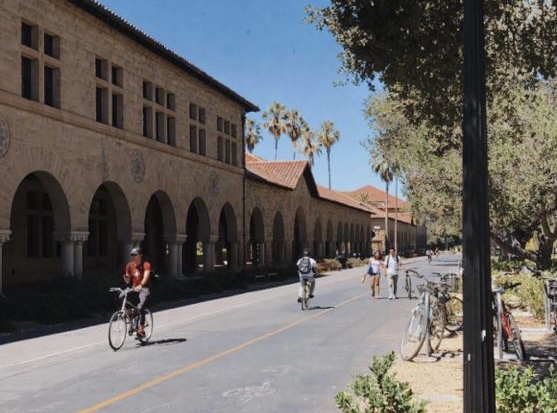 "I was able to see subjects and take classes that were aligned with my passions, which reinforced them even more. I know I'm more certain than ever of what I want to study."  – Estefania Henao, Class of '23
It was a busy summer for high school students who spent their summer dipping their toes in the world of higher education by attending pre-college programs at universities across the United States.  It was a 'break' full of college level education, lifestyle, and culture. Students returned home with improved prospects to attend prestigious universities and many special memories.
Estefania Henao: Stanford University, Palo Alto, California
Senior Estefania Henao attended an eight-week program on international relations, creative writing and public speaking at Stanford University in Palo Alto, California. Henao studied with many different students, including high schoolers, university undergraduates, as well as graduates from the US and abroad. 
"I think it was definitely an authentic experience because I was not only with students from all around the world, but I was also able to have classes with actual Stanford students," Henao said. 
One purpose of the program was to help students adapt to university by immersing them into academics and social life. Estefania's experience included living on campus in a dorm room with a roommate.
"At first I didn't like my roommate. She was disorganized and the complete opposite as me. But then I learned to like her and we sorted things out," Henao said
Living in the dorms taught Henao about the patience that comes with sharing a space with someone, something notorious to college dorm life.
Additionally, the ability to communicate with other university attendees was crucial for Estefania's success. Programs of this nature immerse participants in helping them identify what type of college fits them best.
"Some of the classes were more challenging than others. But I put in the time, effort and asked for help, which is what made everything easier," Henao said
Estefania also took a summer job at Lucky Brand in Stanford's shopping center on campus, allowing her to earn spending money. Her job varied as she worked in customer service, operated as a cashier, and organized storage. She expressed how after getting some work experience in retail, she'd be interested in doing it again as a fully enrolled college student. 
"I do think in the future I might start in retail and then work my way up into other jobs like research. I do feel like retail is a good way to introduce yourself to jobs," Henao said.
Sofia Gamez: American University, Washington D.C.
Similarly, Senior Sofia Gamez hopes to pursue a career in medicine, and explored her passions in American University's summer program, located in Washington D.C. This opportunity allowed her to get a grasp of what she will do as a professional, as well as provide experience and practice with the equipment provided. 
"The program gave me a lot of options of what I can do with my future career, whether it's research-based, or practice-based, and I also learned how I can use my new knowledge not only to study, but also use it to make a change in society," Gamez said. 
It wasn't until Sofia experienced dorm culture for the first time that she felt like she was prepared for her next four years of university. The showers were old and dirty, and students had to wake up early to take their spot in the shower, and that took some time to get used to.

"I liked having a roommate, it was nice, because I had someone to talk to every night. After some time, I got a hang of sharing spaces with others. But that's also I think that's also part of the experience because you learn how to manage your time and how to live with others, even though you're not the closest with them," Gamez said
Gamez understood what living and studying abroad was like. According to her, because of this experience she is now more independent and confident with the idea of leaving home.
 "It made us feel like we were being treated more like adults unlike in school where we are less in control of our lives. Now I know that if I go to study abroad, I already have some experience and I'll be more prepared than others that have never left their house," Gamez said. 
Helena Hoyos: Columbia University, New York, New York
Senior Helena Hoyos participated in the political science program in New York's Columbia University. Her experience made clear that regardless of what you want to study, the programs make it so enrolling in other classes is friendly and accessible.
"Originally I was gonna do neuroscience, but I felt like that's such a complicated course to take in just three weeks, so I took political science instead," Hoyos said.
Although Helena stayed with her sister in New York City and therefore commuted to the program, she said she still was able to spend time in the common areas with her friends.  
"I had a fun time, but I definitely feel like I missed out on the complete college experience because I wasn't in the dorms," Hoyos said.
These programs let students branch out from what a high school can offer, since the resources offered grant the ability to expand your academic outreach.
"We got to do formal debates, opinion analyses, as well as understanding of political ideologies, and I had never done one of these before, so I do think that I gained some really important skills that I couldn't get at school," Hoyos said.
The opportunities, experiences, and learning alternatives were described by all students to be an enriching experience. 
"I am much more confident as a student. Something I found important and interesting about my experience there is that it actually opened my eyes and took a good look at myself and I became proud of myself and realized how much I have accomplished," Henao said.