Fresh Air for Hard Rock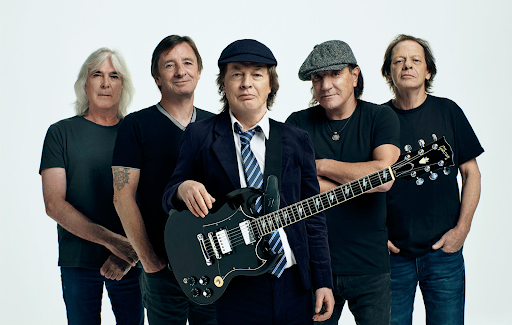 With the changing times, many consider the era of Rock and Roll to be over. However, this hasn't stopped one of Rock's most iconic bands, AC/DC, from making an explosive comeback and causing nostalgia with that good old Rock and Roll. In their new album, Power Up, they reignite the flame and make sure to let people know that they're here to stay. 
The album immediately starts with AC/DC's classic, fast-paced exciting sound in the song 'Realize'. Lead guitarist, Angus Young, once again puts his talent on display in honor of his brother, the band's founder, and former bassist Malcolm Young, who passed away in 2017. The song mentions the moments that pass us by and emphasizes looking back and making sure you 'realize' the importance of living in the moment. What cements their point is the use of a combination of tones and chords from previous albums to create the track, giving it the perfect encompassment of AC/DC's history in one song.
Lead single Shot in the Dark is an immediate stand-out for its feet-moving acoustics, upbeat style, and all-out exciting lyrics. This track can arguably be considered one of their greatest hits, as it incorporates everything that has made AC/DC a living legend of Rock and Roll. It quickly sets a high bar for the rest of the album, which doesn't fail to keep up. Singer Brian Johnson made sure every song had that classic feel and heart-thumping vocals notorious to the band. Most albums in every music genre have 'filler' songs and AC/DC is no exception; these are seen as effortless pieces made to meet a deadline or the requirements set by a record company. In AC/DC's 2008 album, Black Ice, their song 'Rock N Roll Dream' is a clear example. It's simple and effortless and only meant to take up time and space in the tracklist. Luckily, 2020's Power Up isn't one of those cases, as every song has noteworthy and distinctive qualities that make it stand out. Not a single song can be labeled or even considered to be filler, further demonstrating its excellence.   
With their new album, AC/DC hoped to revitalize and start a new era of rock and roll, as recent years have seen the decline of the genre as a whole. Because of this, they made sure to put their heart and soul into Power Up. We are yet to see what will become of Rock and if this is enough to keep the flame alive. While years of hard work and talent are reflected by every aspect of the album, from the meaningful lyrics to the hard-hitting guitar, its ability to capture the essence of what has made the band so iconic is why this can be considered the pinnacle of their career.
In an interview with NME magazine, Johnson leaves his wishes for the younger generation by stating, "I'm hoping this album will make young kids go out and buy a guitar, learn the riffs and discover the rest of our catalog." Clearly, AC/DC's longevity is a result of the shared passion for Rock among its members. This same passion is what they have used to perfect their craft and the album has become its embodiment. It could be said that it was a lifetime in the making and it was well worth the wait.
About the Writer
Tomas Sierra, Freelance Writer
Tomas Sierra is a member of the class of 2022. This is his second year in Journalism and is currently a Freelance Writer for the paper. Apart from Journalism,...