La Bolera Llanogrande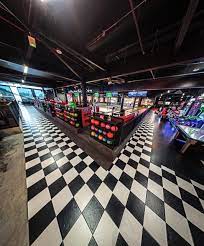 La Bolera Llanogrande has become popular among things to do in Llanogrande since its opening in Jardines de Llanogrande. Bowling has been traced as far back as Ancient Egypt The ancient Egyptians rolled stones at objects intending to knock them over. From then on, it has continued to develop until now, when it is known as a fun game to play with family and friends. At La Bolera Llanogrande, users can enjoy time on the facility as this bowling place features top-quality service, ambiance, and victuals. 
One of the best qualities of this place is its ambiance, La Bolera Llanogrande strives to submerge their clients into a retro-vintage theme. With the help of neon signs, decorations, and red vintage sofas, they can achieve this look. La Bolera Llanogrande also features a great sound, illumination, and automatic scoreboard program supported by the "BRUNSWICK" brand, which complements the quality of the place.
Similar to La Bolera Llanogrande, La Bolera Mayorca also puts great effort into its ambiance.  La Bolera Mayorca uses the automatic scoreboard program supported by the BRUNSWICK brand. Differently, this bowling place is the only one in Medellin that has a theme of the great metropolis of the world. They have four different scenarios which each feature a different city. These scenarios, London, Hong Kong, New York, and Paris all have their elements that resemble each city. 
La Bolera Mayorca has a very creative thematic that every entertainment place should aim for. However, the mechanics in terms of lighting, sound, and scoreboards of both places are top level. In La Bolera Llanogrande and La Bolera Mayorca, they ensure that the customers feel inside the theme which adds to the feel of each place.
The restaurant "FireHouse" is in charge of the food and drinks services at La Bolera Llanogrande. There, they kept in mind the customers' commodity, as the waiters can bring their products to each alley. FireHouse offers a great variety of food and drinks that meet the preferences of almost any person. They offer their well-known burgers and wings as well as ribs, salads, and different starters. FireHouse also has alcoholic and non-alcoholic beverages available for their customers. The restaurant's service is great, the waiters are kind and the waiting time is not long. Aside from serving on the bowling tracks, they also have tables available on the side. 
Like La Bolera Llanogrande, La Industria Bolera also has a food and drink service. They offer burgers, fries, and many more, but restrict drinking alcoholic beverages. Unlike La Bolera Llanogrande, they don't have a recognized brand such as FireHouse serving their meals. Instead, they have their own restaurant in place. La Bolera Llanogrande has an advantage over almost any other entertainment place by featuring FireHouse. Having a recognized restaurant like this attracts even more customers than just by having their menu.
La Bolera Llanogrande offers ten adult bowling tracks and four for kids. Each track comes fully equipped and can support a maximum of six people. Their clients can book any of the tracks through their advanced online booking system. Once you come into the place, the people working there are very welcoming and hospitable. They explain to you the rules and conditions of the bowling alley. Then, they prepare your shoes, guide you to the track once it's ready and help find the perfect size and weight of the ball for you. The assistants help you set up the scoreboard to start playing. They supervise the whole alley and are always looking out to see if someone needs any help. To entertain the customers while they wait for the track to be ready, La Bolera Llanogrande also offers billiard tables, a bumper pool, and the latest generation electronic games.
Different from La Bolera Llanogrande, Bolinco Bolera Monterrey has bad customer service. Their clients claim that the service is appalling, as the assistants don´t provide much attention to their customers. The place is also disgusting, the bowling balls are dirty as well as the other appliances inside.
La Bolera Llanogrande has one of the best services when compared to other bowling places. Unlike Bolinco Bolera Monterrey, La Bolera Llanogrande´s staff is attentive and kind. The place is impeccable and the appliances are always disinfected after they are used. 
In the aspects reviewed, La Bolera Llanogrande is very strong, even when compared to other bowling facilities. One can see that they put much effort into creating a place that pleases and entertains their clients. La Bolera Llanogrande has an interactive ambiance where the individual can feel he is into it. They also did a good job by pairing up with FireHouse as, by this, they provided excellent victuals. Finally and indispensably, the place is clean and the staff always have a positive attitude towards the customers. Through this, La Bolera Llanogrande ensures that their clients spend a good time with their friends, relatives, and close ones.